As renovation contractors, we love it when we have the opportunity to take a neglected old building and - with the help of dedicated clients and a good designer- give it a new life.
When I first visited this carriage house in Brookline, MA, I was intrigued by its beautiful exterior but quite taken back by the unpleasant interior. Prior owners had converted it into a rental unit but by the time our clients bought the property, the interior was in disrepair. It was dark, cramped, and felt quite damp and musty.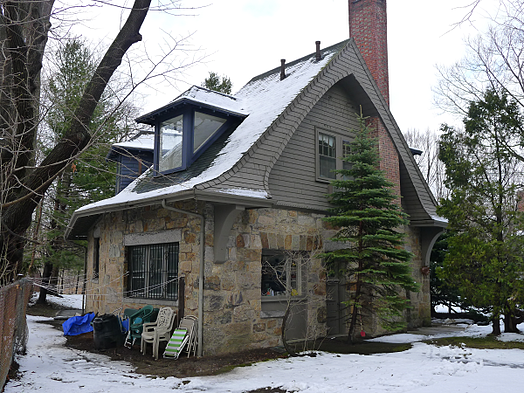 exterior prior to construction
The project architects, Meyer & Meyer Architects, had a great vision: they determined that creating a large opening between the first and second floors would bring much more light into the living areas and result in a more spacious feeling.
The main challenge was the calendar; our clients needed to be living in the carriage house just 10 weeks after the start of construction. When the interior demolition was carried out, the engineering was quickly done and the re-construction began immediately. Because time was short the project team- architects, homeowners, and us - met on a regular basis to review any new issues and to put the finishing touches on details (cabinetry, fixtures, etc). Good communication is the key to any successful renovation, but it becomes even more critical when the schedule is tight. This was a "fast track" project, meaning that construction began before all of the design work was completed. So while we were doing the interior framing, key elements such as the kitchen cabinetry and the spiral staircase were being drawn.
Prior to construction....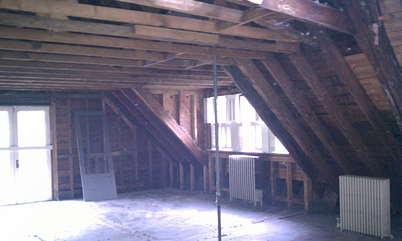 During the framing phase.... the opening between floors has been created.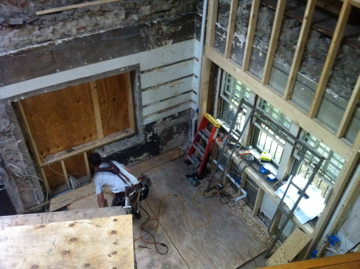 The building had some serious structural defects and the desire to create the large opening between floors only added to its structural needs. But by the fifth week we had completed the structural work, the rough wiring, HVAC, and plumbing had been installed, and we had all of our rough inspections. Halfway there! Another week or so and the spray foam insulation and board and plaster were done.
During the spray foam installation....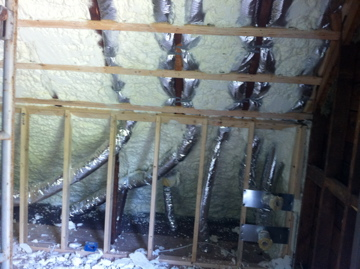 Cabinets, counters, wood floors, tile, interior trim and painting were all done in the final month of the project. The project came to a crescendo on the day that the spiral stairs arrived. Ideally they would have been installed much earlier in the project, but because of the compressed schedule, the stairs didn't show up until the final week. Our friends at Deathwish Piano Movers quickly lifted them in through the second floor French door opening and we dropped them into place. Phew!
Here's the completed project... what do you think?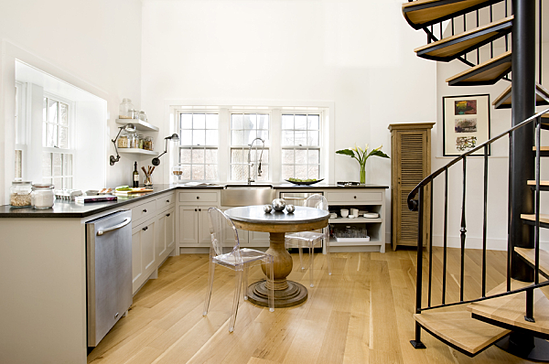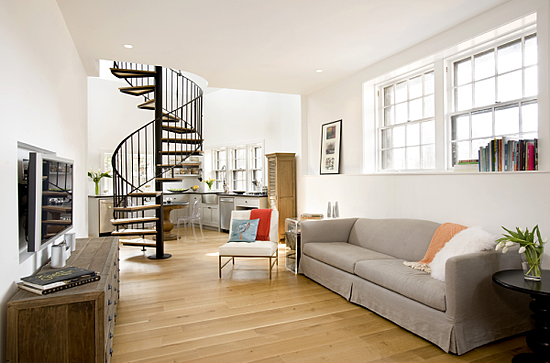 The interior is flooded with light now. The light walls show off the new white oak floors, the dark beams, and the spiral stairs.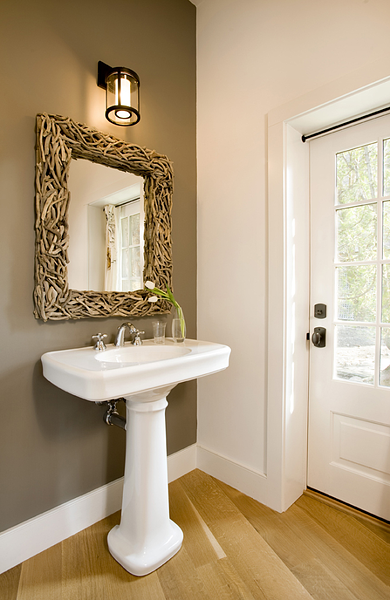 We painted one bedroom wall with chalkboard paint.