We're known primarily as Old House Renovation guys. Maybe that's why we have so much fun when we get an opportunity to do some new construction from the ground up. A year or so ago we teamed up with the timber frame company Bensonwood to build a new house out in Harvard, MA. Right now we're teaming up with them again to build a new barn in Weston, MA.
Bensonwood has an incredible high-tech factory in Walpole, NH. Their architects send CAD files to huge shaping machines. The CAD files are translated into instructions to cutting heads that precisely cut the timbers to the sizes and shapes needed to produce the posts, beams, and other components that comprise the timber frame. They also build floor, wall, and roof sections in the factory. While they're making the frame in their shop, our people are on site doing the excavation and concrete work required to get the foundation ready. In this particular case we had to blast through some tough ledge before the foundation walls could be formed.
As you can see from the photo below, the concrete foundation on this project will be concealed by a beautiful stone veneer.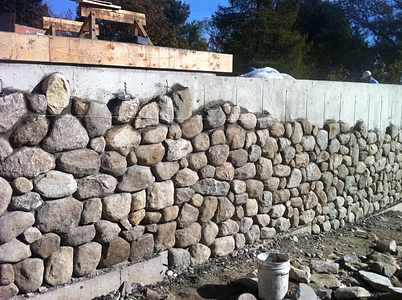 With the foundation ready, the timber frame and prefab panels were shipped to the site. Late last week the floor panels were installed onto the foundation. This week a team of timber framers - comprised partly of BensonWood guys and partly our own carpenters - pegged the timbers together and a crane lifted the sections into place. Wall and roof panels also get installed with the assistance of the crane. When the shell is in place, the crane will leave and we will carry out the rest of the work: exterior trim and siding, mechanical systems, plaster, interior trim, etc.
Here's a shot of the timber frame lying flat on the floor prior to being lifted in place.
The main sections of framing (called "bents") were lifted into place by the end of the first day of framing, as seen below.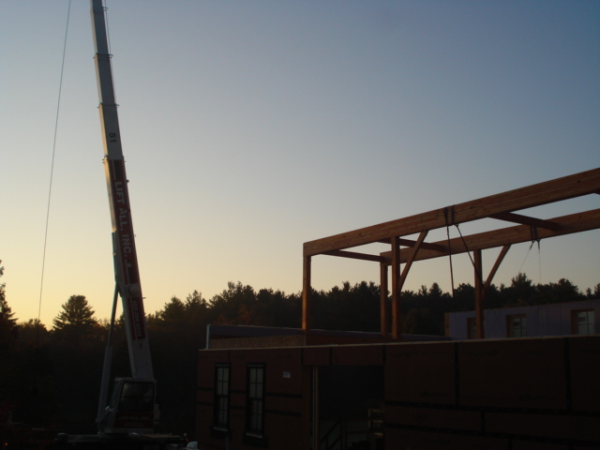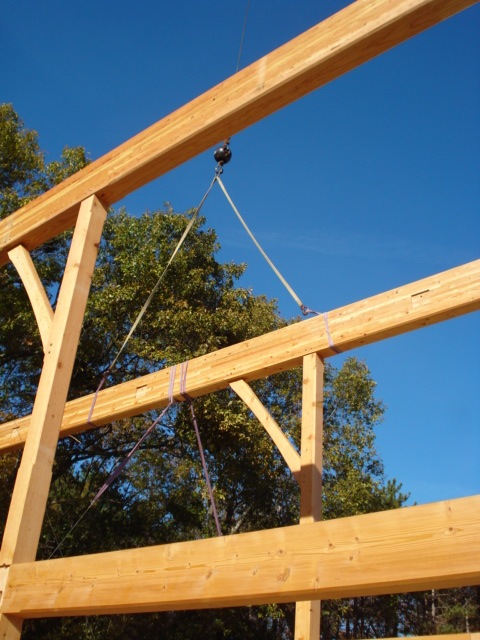 By the second day, the barn is really beginning to take shape. I'll do a couple of follow up posts in coming weeks and months so you can see how this barn turns out.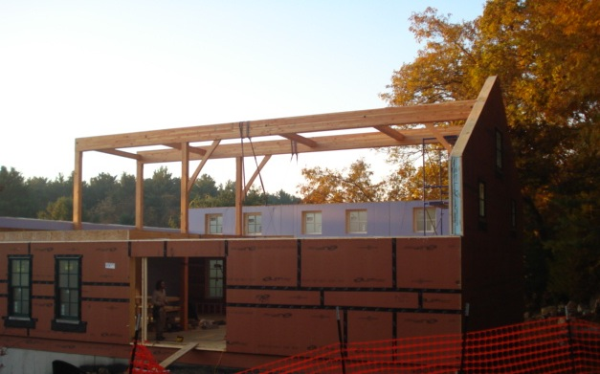 So, hey, maybe we should be known as the new and old house or the new-old house guys or old new house guys or- well you get my drift. Be sure to come back in a few weeks to check out the progress on this project!