Kitchen design is a very personal thing, especially when it comes to old houses. Some people want the kitchen to match the period look of their house while others don't mind having a more modern looking space.
Personally, I lean towards the first group. I've seen many nice old house renovations spoiled (IMHO) by undistinguished kitchens that will look dated in a few years. It can be jarring to walk through a beautiful period renovation and then walk into a kitchen that looks the same as every other kitchen. Much better to design a more timeless kitchen that complements the architecture of the house and gives a nod to the fact that 18th and 19th century kitchens looked nothing like 20th/early 21st century kitchens.
Of course, when I talk about period feeling I'm not talking about authenticity. None of us wants to hand pump water to the sink or store our food in an icebox (never mind do our cooking in a fireplace). So we're going after a look that somehow evokes the flavor of the period while still providing a kitchen that's useful and fun to work in.
We're going to use my own kitchen as the case study. My house (shown in more detail here) was built around 1830. We carried out an extensive renovation and expansion eight years ago. The kitchen is located in a part of the house that was rebuilt from the ground up but that we wanted to blend with the rest of the house.
1. No long runs of cabinets. Long, uninterrupted runs of matching cabinets and counters are probably the primary distinguishing feature of the modern kitchen. Back in day, of course, kitchen "cabinets" were typically free-standing pieces of furniture. Sideboards, cupboards, hutches and the like were brought together regardless of style, color, or materials. That was the look that I was going after in my kitchen, as you see here.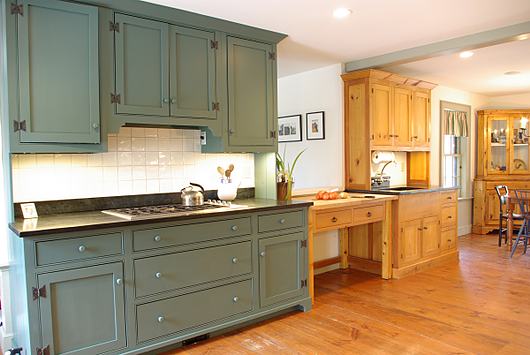 Here we have three different pieces (four if you include the corner cabinet). One is painted, the other two are natural (in fact, these were made from wood we salvaged during demolition of one part of the house). These were designed to resemble free-standing pieces although they are built in.
Instead of a long, uninterrupted length of counter, there are three separate sections here: two soapstone and one wood. Together there is plenty of prep space.


2. No inside corners. Almost all kitchens have banks of cabinets that have 90 degree inside corners. These are so common that most people don't even think about this detail. Of course, when kitchens were comprised of separate pieces, there were no inside corners. Take a look at how this subtle omission yields a different feeling than found in most kitchens today.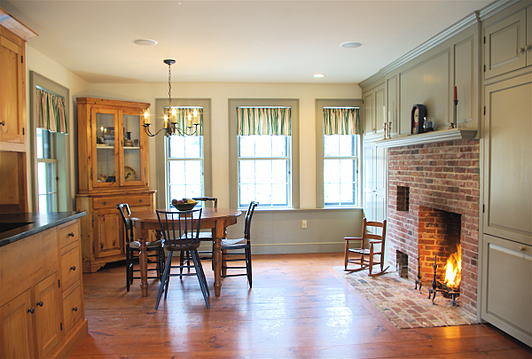 3. Mix and match. We've already touched on the fact that the cabinets in our kitchen are not all the same. Some are painted dark green, some are natural. The cabinets surrounding the fireplace are painted a different color; the gray/green of the rest of the woodwork in the room. Also, these have raised panel doors while the other cabinets have flat panels. It can be risky to do this. Done poorly, the room will lack cohesion and will look too busy. But done well and it can help achieve a really special place.
4. Appliances. We decided that to pull off a 19th century feeling in our kitchen, we wanted to minimize the visual impact of the appliances. The obvious answer for the fridge would be to get a built-in unit meant to accept cabinet panels. Two issues there: first those units (Sub Zeros and the like) are very expensive. Second, even with the cabinet panels they typically have a large stainless grille on display.
So instead we took a standard white bottom freezer fridge and mounted cabinet panels to it for a more built in look. We first mounted the panel to the fridge door with drawer slides so that the cabinet door and fridge door could slide open together. Later, we found some plastic slides from Hafele hardware designed specifically for this application.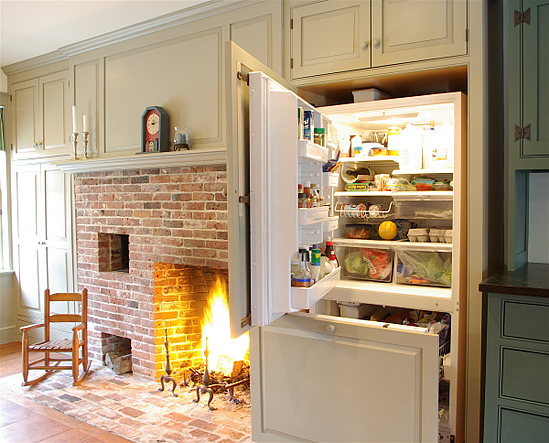 To hide the double oven (to the left of the fireplace) we over-sized the cabinet and then installed retractable doors. These doors stay open when the oven is being used and until it cools off.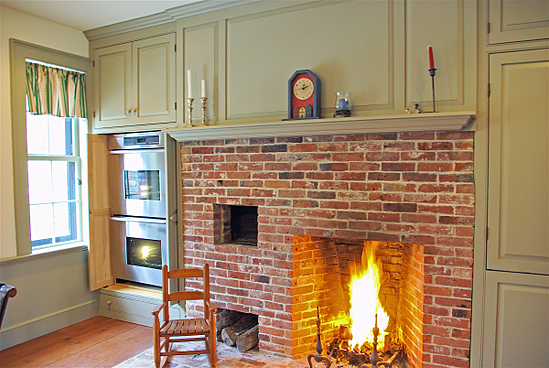 The dishwasher is an integrated Fisher Paykel, so we simply built cabinet panels to help blend that in.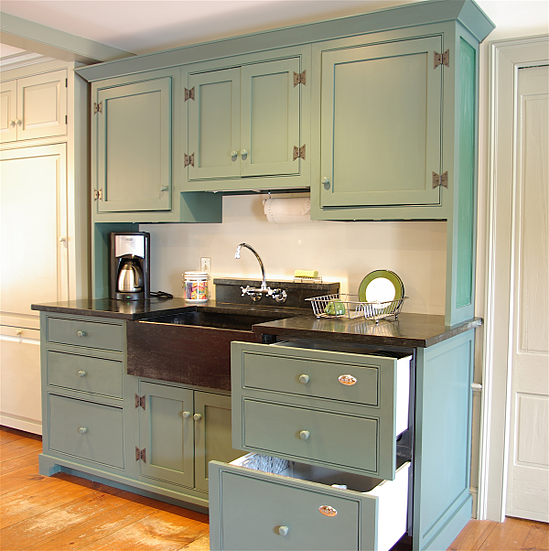 We tucked the toaster oven and microwave into the pantry (the door to the right of the dishwasher above) to keep those out of sight. Finally, we opted for a fairly discreet gas cooktop and hid the hood into the cabinet above.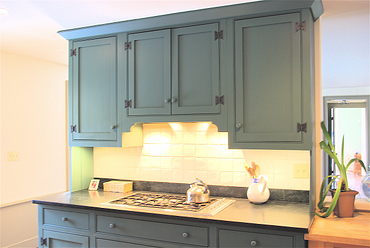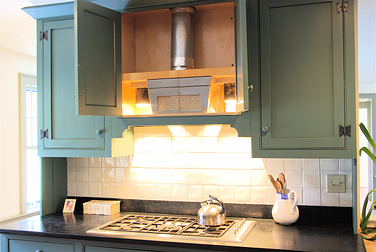 I recognize that most people won't go to these extremes to make a new kitchen look old. In fact, if you look at some of the other kitchens we've renovated you'll see a wide range in style and appearance. But hopefully this will provide some ideas to those of you about to embark on a kitchen renovation in an old house.