While we're primarily known as historic renovation contractors, we've broken ground on a new timber frame house on a picturesque horse farm west of Boston. From time to time I'll be updating you on our progress. It should be a pretty interesting project. For one, we're using a precast foundation, instead of the standard poured in place technique. Pre-cast foundations are catching on, and for good reason. It can be a challenge to form and pour a foundation during the winter months in New England. With this system (we're using a company called Superior Walls) there's no need to worry about how the cold weather will impact the foundation.
The panels were made in a factory in Pennsylvania and shipped to our site: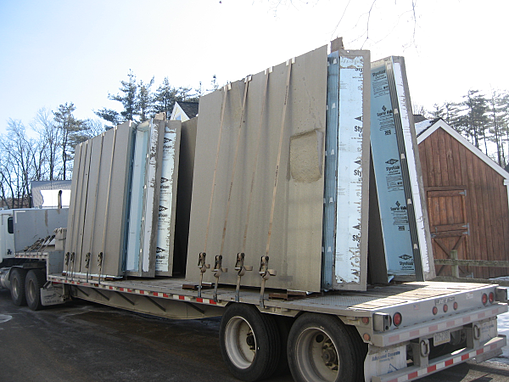 They were placed into position by a crane and bolted together. The seams are sealed with a caulking specially developed for this purpose.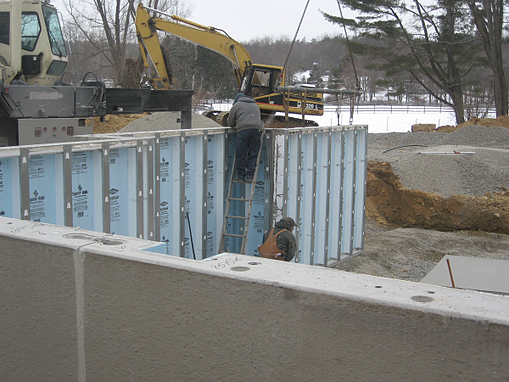 There are a number of other benefits to this system. First, it makes for a very energy efficient foundation. There is a continuous layer of rigid foam insulation and when that is augmented by insulation placed in between the concrete "studs" you achieve a rating of R-30 which is phenomenal for a foundation. Second, finishing the basement space- as we'll be doing on this project- is very simple. Your drywall can be screwed directly to the metal bands embedded in the concrete studs.
The house itself is being made by BensonWood timber framers of New Hampshire. They'll be installing the shell and our crew will be finishing both the interior and exterior.The first floor was installed in panels yesterday, as you see below. Check back in the months to come for more about this project.