When we build an addition on a historic house, we take pride in our ability to make the new space blend seamlessly with the old. One of the ways we do this is by avoiding the raw look of exposed concrete foundations. Instead, we typically place a veneer of stone over the concrete so that the new foundation looks very much like the original foundation- at least from the exterior.
To do stone veneer you must form a shelf in the concrete foundation, as shown in this crude sketch.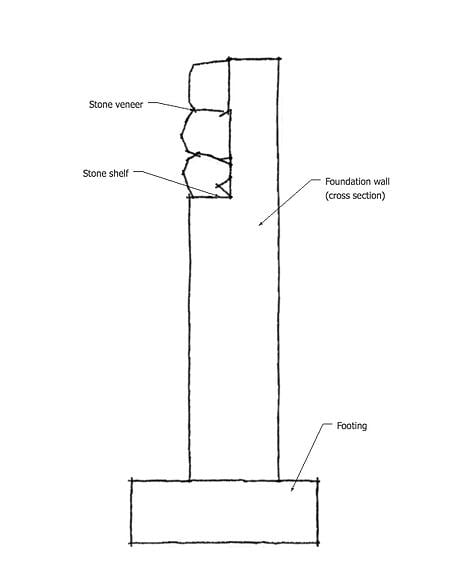 The stones are laid in mortar and typically attached to the wall using thin metal straps or ties. Because the shelf is usually fairly thin - 4-6"- it's necessary to use fairly thin stone. On the project shown below, however, we poured a very thick foundation wall with a large, 12", shelf. This enabled us to use much larger stones than normal, more closely replicating the look of an old fieldstone foundation. We used salvaged fieldstone for this project, and kept the mortar back from the face of the stones to suggest an old dry-laid foundation.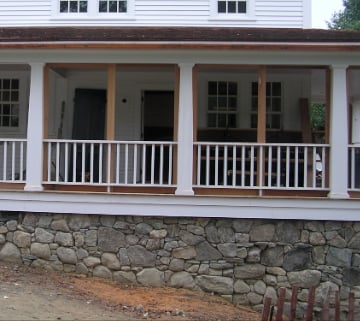 On other projects, we have used old granite curbstones as a veneer material to simulate the granite capstones found on so many 18th and 19th century homes. Here's on example: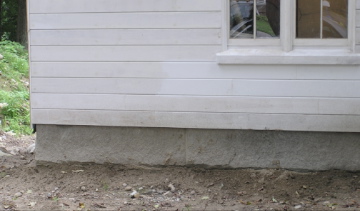 If you can't find old curbstones, you can use new ones. However, many stone yards sell salvaged stone of all shapes, sizes, and types. Although expensive, facing the foundations of your addition with stone makes a noticeable difference in the appearance of the job.
We'll be doing a large amount of stone veneer on our project in Brookline, MA. We lifted the house up on steel beams, removed the old stone foundation, and installed a new concrete foundation. We stockpiled the original stone and will be using that as the veneer material. We'll have to pick through the pile for some of the thinner stones and if we run out of thin ones, we'll have to split some of the larger ones to make them small enough to fit on the shelf. In the end, we'll be rewarded for that effort with a new foundation that has much of the look and feel of the old foundation. I'll post some pictures soon.
Landmark Services has been renovating historic Massachusetts houses for almost 20 years. Have a look at our project portfolio to see some of our projects.
We'd love to help you plan and build your project! Give is a call. We're Landmark Services, The Old House Experts.