Since I started in this business as a renovation and restoration contractor, I have tried to look for new ways of approaching old problems. I love when fresh ideas are brought to the residential construction business.
Here's one such break-through. A couple of engineers who helped Apple develop the iPod has designed - and is now selling - a "smart" thermostat that has the potential to help homes and businesses save an enormous amount of heating and cooling energy.
The product is called the Nest and - as with Apple's products - it was designed with a simple user interface but with incredible behind-the-scenes intelligence. (And, yes, I'm an Apple fan, having used their products for over 20 years now).
Three things make this stand out from any other thermostat on the market.
First, it's good looking. The Nest is the one on the right, a typical setback thermostat is shown to the left. What a difference! The old one has buttons, dials, and sliding switches, plus a fold-down panel that reveals even more buttons. What a mess!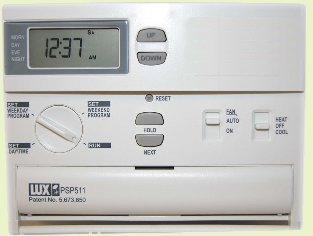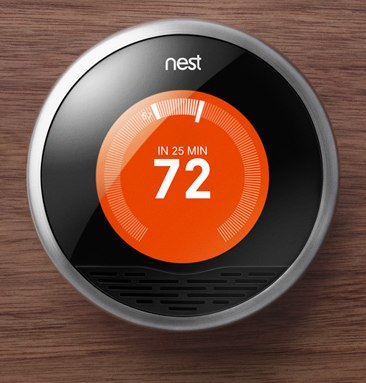 Second, the Nest is simple to set up and use. When first installed, it asks you some simple questions which helps to set it up. Have you ever tried to program one of the old fashioned thermostats? Confusing and unreliable are the terms that come to mind.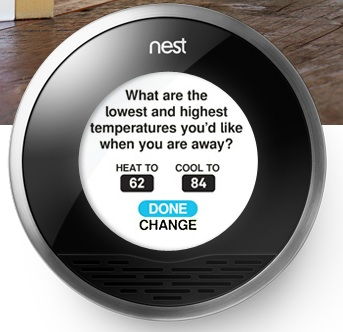 But the major difference between the Nest and any other thermostat available is that it's smart. It learns your habits and your preferences. If you turn the heat up in the morning, Nest will remember this and turn it up for you even if you forget to do it one day. It has built-in motion sensors and so it will turn the heat (or AC) down when no one is around. A compatible iPhone app allows you to adjust the Nest even when you're on the road. And the Nest connects wirelessly to the internet and allow you to actually track the energy savings online. The WIFI connection also allows it to monitor local temperatures and adjust its settings accordingly. Awesome.
While expensive compared to other thermostats (about $250), the ease-of-use means that this product will actually save you money, unlike most traditional thermostats. Studies have shown that most programmable thermostats are never actually, you know, programmed because the interfaces are so confusing. Since the Nest is so easy to set up, it will reduce your heating and cooling costs every day.
I'm thrilled to see such well-thought design and engineering brought into the home improvement market. Sadly most of the true innovation in heating and cooling systems, appliances, and plumbing fixtures these days seems to be happening in Europe. I am hopeful that this product will provide an incentive to other American engineers and product developers to show that we can still produce exciting products here as well.